Basic user management features are included in the Annotation Lab. The admin user can add or remove a user from the data base or can edit user information if necessary. This feature is available by navigating to the lower left side menu and selecting User Management feature.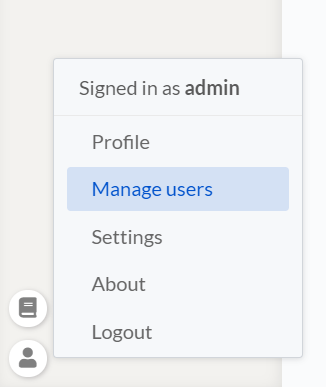 All users that have beed added to the current Annotation Lab instance can be seen on the Users screen. First Name, Last Name and e-mail address information should be available for all users. An admin user can edit those information, add a user to a group or change a user's password.
User Details
Annotation Lab stores basic information for each user, such as: the First Name, Last Name, E-mail address. Those can be edited from the User Details page by any Admin User.

User Groups
Currently two user groups are available: Annotators and UserAdmins. By default a new user is added to the Annotators group. This means the user will not have access to any admin features such as: User Management or Settings.

For adding a user to the Admin group, an admin user needs to navigate to the Users screen, click on the edit button for the concerned user, then click on the Groups tab and check the Admin checkbox.
Reset User Credentials
An admin user can change the login credentials for another user, by navigating to the User Credentials tab and by defining a new (temporary) password. For extra protection, the admin user can also enforce the password change on next user login.